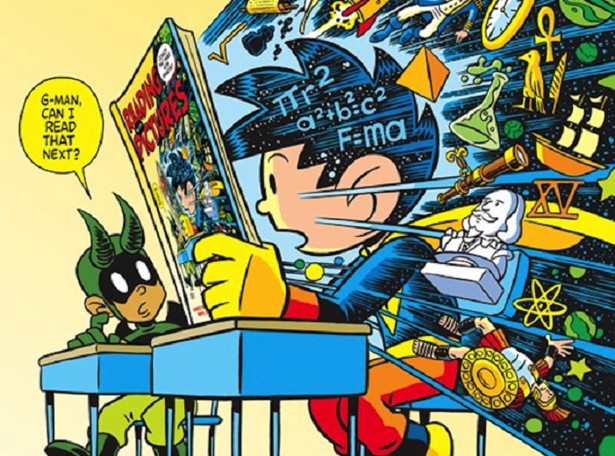 Comics and graphic novels are sometimes looked down on when working with students due to them being non-classic style literature. Sure the words are not laid out in paragraphs or in a poem, but there are words and the students can analyze what is on the page. When a student is struggling with a text why not try to limit the words in front of them at a time?
While text in comic books is usually limited more to dialogue between the characters there is still many aspects of traditional literature that one can review with your students. In fact one can even examine the same stories as the rest of the class due to many classic texts being re-released as graphic novels. Students can use them to explore imagery, tropes, scene setup, and storylines just as well as their text only counterparts with a way to combat issues related to non-readers.
A teacher could also use the graphic novels as a form of visual aid when teaching a story, if one is available for it. Since the page would clearly show the scene in question in detail it would give students a clear visual to represent what is going on. While it may not help their word comprehension as much it still permits the construction of literacy skills and allows students that are behind to catch up somewhat to the class at large in a format they can comprehend. A full true book means nothing if a student cannot read it.
Michael Strom had much to say about this concept in his graduate thesis "Finding Comfort in Comics: Using Comic Books and Graphic Novels to Reach Struggling Male Readers." However he made a case for this medium to transition to other subjects. One idea he had for math in particular was "was able to draw pictures to solve them. I was the creative type growing up, and always jumped at the chance to showcase my skills across content areas. My love for art and reading helped me in math, allowing me to synthesize information that I couldn't tackle on my own." And his points about other aspects of using comics to teach have already been proven.
Many instructions are laid out in an easy to follow pictorial formats. From IKEA constructions to America employing comics to teach equipment maintenance comics have given a clear, easy to follow instructional guide on how to carry out instructions or to even convey information in a far clearer manner than just words. Sure, it can be had to obtain the art needed for things, but if you can it is more than likely a good option to go ahead and do so.
Citations
Elder, Josh. Reading With Pictures: Comics That Make Kids Smarter, an anthology of comic strips aligned with Common Core standards. https://www.theatlantic.com/education/archive/2014/09/how-comic-books-are-creating-super-classrooms/380236/
Manno, Michelle & Strom, Michael (January 17, 2014). Turning Struggling Students into Superheroes: Comic Books as Teaching Tools. Teach. Retrieved from https://teach.com/blog/comic-books-in-the-classroom/