Today was the last official day of the class. We decided that it would be great to end the class with a excursion to Denali National Park. This was a surprise to the class and we told them at the end of the persuasive arguments assignment at Marion Creek Campground.  Everyone was excited about taking this excursion!  We had a very early start for the two hour drive south of Fairbanks to the national park.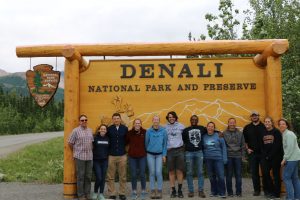 Danali National Park was a sharp contrast to the voyage taken in northern Alaska.  There were more people at Denali National Park, while we were there, than the entirety of people that we saw along the five days traveling along the Dalton Highway and back — including Prudhoe Bay.  There was so much commercialization around the park — shopping and hotels were abundant.  We drove into the park and ate lunch in the park.  We were able to get some great views and pictures of Mt. McKinley!
After lunch we had time for the last reflection — the turning point reflection.  This was an opportunity for the students to reflect on how the journey to Alaska had affected them and influenced their views on travel, public lands, and general education.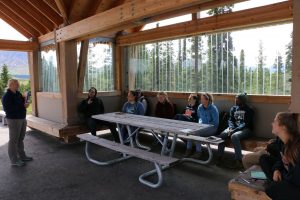 On the trip back to UAF, we had a group dinner together to celebrate our time together in Alaska.
Once back at UAF, we ended the travel experience with a final meeting to debrief our day and to look forward to the future assignments that will be completed after the students return home. The class still will have about three weeks of coursework remaining.  The students will take all of the information gathered in the travel portion in Alaska to help complete assignments.
The students (and professors) had a wonderful time in Alaska. We all learned so much about the state of Alaska, the oil, and oil pipeline industry. It has given us all a new perspective to the oil industry.